Reviews
"Listed Number One in Classical Music of 2018: "Harriet" by Hilda Paredes.
Layered music theatre about the American ex-slave and freedom fighter Harriet Tubman proves that 'difficult' contemporary music can appeal to a wide audience. The design is stimulating, the storytelling structure fragmented, the rustling and driving music cleverly interweaved with spirituals. Glorious Soprano Claron McFadden is at the centre in the title role."
Joep Stapel, NRC,
2018
"Though dubbed a chamber opera, Harriet is much more. It shows what opera can do if we push the boundaries between artistic disciplines. In many ways it is a feat of storytelling. It is all the more poignant, however, as a reminder of the enduring significance of Tubman's struggle."
Read More
In four short acts and an epilogue-spanning just over an hour – the work comprises scenes from Tubman's youth, her days as a conductor on the Underground Railroad, her role in the Civil War, and a troublesome origin and hopeful legacy of her daughter. The epilogue's closing words – 'The Underground Railroad has not yet arrived at its destination'- here accompanied salient images of notable momenta in the African American quest for freedom. Harriet not only offers a glimpse into this remarkable history, but also urges its audience to consider how we can continue to learn from it."
Opera Magazine,
2019
"The life of Harriet Tubman, African American freedom fighter and former slave, is a gift for an opera composer. Mexican composer Hilda Paredes has managed to distil this story into a vivid, punchy chamber opera for two voices and three instruments. The UK premiere took place during the Huddersfield Contemporary Music Festival – a hotbed of experimentation – so this was no historical recreation with period costume. Paredes's score, played live on violin, guitar and percussion and backed by an electronic landscape designed by Monica Gil Giraldo, remains bright and surprising over the 90 minutes."
Read More
"Anchoring the 'monodrama' is high soprano Claron McFadden, a proud figure in a severe black gown and Puritan neckerchief. It was McFadden's suggestion to make an opera about Tubman, and Paredes has written dreamlike, stratospheric phrases for her extraordinary voice. McFadden shares the narrative with agile soprano Naomi Beeldens, combining lyrical recitative with Sprechstimme and snatches of well-known spirituals.  Bringing the story into the present, newspaper headlines chart the progress of the civil rights movement and the opera ends with a hopeful image of the young Barack Obama on the screen. Unvoiced is the thought that the current president could right now be undoing all that Harriet Tubman fought for."
The Stage,
2018
On Harriet: "Hilda Paredes takes from society everything that is in it, she is able to draw every imaginable sound colour from the combinations of instruments and voices."
Werkgroep Caraïbische Letteren,
2018
"Hilda Paredes' vocal lines, with sudden and abrupt leaps, are unforgiving to sing and to hear. It's difficult to say what first begins to make Harriet such an intensely involving work… The sounds filtering through the theatre – speech, music and just sounds – are insidiously involving, the three on-stage instrumentalists point the drama incisively – the always-on-the-move virtuoso percussionist in particular – and Beeldens, taking on the role of Alice, Margaret's daughter and Harriet's protégée, is committed, versatile and increasingly active. The music gains renewed power and relevance from the slave hymns that Harriet used to give coded messages to her passengers on the Underground Railroad."
Read More
"Snatches of Steal Away, haloed with circles of marimba, accompany the escaping slaves; Harriet herself is gloriously celebrated in Go Down Moses; at the very end images of the sufferings and triumphs of black America are projected over fragments of Swing Low, Sweet Chariot, as they gradually reassemble into the full theme. Ultimately Harriet does ample justice to a great American hero, not least because of a central performance from McFadden that combines dignity and authority with poignant sensitivity and supremely assured command of a demanding vocal range".
The Reviews Hub,
2018
'The work has only three musicians, a violin player, a guitarist and a percussionist, but also contains an electronic component: surreal echoes, doublings and other musical phantoms resound from the walls of the auditorium. All of this makes Harriet into a technically complex piece that compels admiration for that reason alone.  Paredes' music is beautiful and rich in details, and alongside subtle and rarefied textures, it contains spikier sounds and in the fourth act even martial rhythms."
De Volkskrant Nederland,
2018
"Bitácora capilar felt like the most intimate setting of the evening… A collection of pulsations littered the middle section of the piece, metaphorically connecting the heavy beats of two hearts, each instrumentalist introspectively emoting each tone."
Read More
"Bitácora translates to binnacle, the container that holds a compass on a ship. Paul Griffiths describes it as a ship's log. He writes, "Moreover, her personal relationship makes this a 'capillary log;' recorded in the inest threads of her bloodstream." A collection of pulsations littered the middle section of the piece, metaphorically connecting the heavy beats of two hearts, each instrumentalist introspectively emoting each tone. Careful sensitivity among players allowed each fragment and motif to converse seamlessly."
Boston Musical Intelligence,
2017
"Variegated textures were quickly brought to the fore, and the interaction of the five players often had the effect of one new instrument with five constituents. To return to the astronomical analogy, the binary star system of guitar and string quartet in this work exchanges so much gravitational energy that something new and far-reaching is born."
Read More
"Other instruments, singly and in combination, have been subject to the gravitational pull of the evolving string quartet. This fact also was underlined by the concert at the Indiana History Center, which had as centerpiece a 2016 work for guitar and string quartet, "Son dementes cuerdas," by Hilda Paredes. The composer's program notes suggest the interest that idiomatic styles are juxtaposed and contrasted, and similar techniques, such as glissandi, are presented to expose differences in timbre between guitar and string quartet."
Jay Harvey Upstage,
2017
"Author of a wide and most diverse catalogue, this Mexican settled in London for a long time is one of the few women who regularly sees her music recorded on portrait CDs. Her latest entitled Señales is a good sample of her creative work.
The five pieces of diverse nature, structure and chronology, offer a good portrait of her enormous palette of resources. These five selected pieces encompass a period from 1996 to 2013 and are unified by their variety."
Read More
"Hilda Paredes is probably one of the two or three more interesting composers with a consolidated artistic career of our time in the Spanish speaking community. Author of a wide and most diverse catalogue, this Mexican settled in London for a long time is one of the few women who regularly sees her music recorded on portrait CDs. Her latest entitled Señales is a good sample of her creative work.
The five pieces of diverse nature, structure and chronology, offer a good portrait of her enormous palette of resources. These five selected pieces encompass a period from 1996 to 2013 and are unified by their variety. We travel through the characterized glissandi, an idiomatic repetition of percussive notes or the effects of woodwind instruments. A versatile continuous tension and relaxation in this music from the pointillism in Páramo de voces (for piano and electronics, and a reference to the writer Juan Rulfo), to the lyricism of Homenaje a Remedios Varo for sextet, a work inspired by five canvases of the Hispano-Mexican artist. There are also more demanding works for soloists like  Intermezzo malinconico  for bass clarinet and for medium size scoring like those that open and close the programme: Señales a homage to Jonathan Harvery, enables the brilliancy of Irvine Arditti's violin, the best performer of the music of his partner and wife, and of an ensemble of nine instruments, three of each family. Finally, the chamber music in Recuerdos del porvenir crowns this great CD in Mode's label."
Scherzo,
2017
"Recuerdos del Provenir is also an ensemble piece, Paredes' 2006 response to Ensemble Recherche's invitation to a number of composers to write a piece based upon the Gloria Tibi Trinitas plainchant, while her vivid aural imagination is equally engaged in Páramo de Voces in which the sounds of a solo piano (Alberto Rosado) are juxtaposed with recordings of electronic generated sounds and music from the south of Mexico… Wonderfully imagined textures."
The Guardian,
2016
"Hilda Paredes is one of the most prominent Mexican composers of contemporary concert music. Her latest recording on Mode presents five chamber pieces in riveting performances… This recording is an engaging portrait of a fascinating composer."
Sequenza21,
2016
"A synthesis of time, spaces and cultures in the style of a composer who whilst living in London and  rooted in  the European tradition, but in her works echoes also emerge of pre-Colombian Central American cultures, as well as an essential strength that defines a very refined and sensitive music, always with a very poetic note. This refinement has become increasingly acute, and the scores gathered in this portrait CD on the Aeon label are good examples".
Mundo clásico,
2016
"Further linguistic flights rounded out the program. "Seed of Time," a 2003 horn-and piano-quartet tribute to Elliott Carter by Hilda Paredes, had something of Carter's nervy fluidity — of meter, of harmony — but also its own sense of broken communication, lively, dense textures carefully, woozily falling apart, then reassembling."
Boston Globe,
2015
"The next piece, by Mexican composer Hilda Paredes, Cuerdas del destino (2007-8), was an intriguing counterpoint to the rest of the works in the program, since it simultaneously affirmed and denied the aesthetic of the other composers in the programme. Paredes' music, though also rhythmically complex and rife with extended string techniques, was more flexibly organic than the rest of the programme, with its graceful glissandos, col legno and toneless bowing."
New Music Toronto,
2014
On La tierra de la miel: "Finally, Violeta, another prostitute, tells of her friend Iris, slender and not yet 20, sent by her father to "a land of milk and honey … where dollars grow on trees." Iris' first rape was in the car even before she reached the border. The opera's last line: "I wither from sadness / a flower without dew."
Hilda Paredes provides sorrowful music here that is almost too much. She, like the other composers, is a substantial Modernist; her style is complex and difficult. But she knows how to drain substance away too, leaving meaningful emptiness.
LA Times,
2013
"Ms. Paredes, born in Tehuacán in 1957 and based in London since 1979, is admired for compositions that mix modernist rigour and extended techniques with a primal energy rooted in Maya lore. Here the new-music ensemble Signal, conducted by Brad Lubman, brought its customary authority to three works."
Read More
"The first, "Corazón de Onix" ("Heart of Onyx," 2005), for a sextet of winds, strings and piano, evoked a gemstone's luster and mutability with sharp, glistening sounds, reshaped and refracted with microtonal smears and noisy outbursts.
"Señales" ("Signals," 2012), newly commissioned by the Miller Theater, featured Irvine Arditti, the formidable English violinist who is also Ms. Paredes's husband. From a lapping, splashing introduction, the music — played by a 10-member ensemble that included an ear-tickling mix of cimbalom, harp and marimba — rippled, surged and jolted ceaselessly around Mr. Arditti's flashing exertions. Time stood still repeatedly during haunting interludes that paid homage to another composer, Jonathan Harvey."
The NY Times,
2012
"Revelación (world premiere) looks at the temporal reality and the relation to others […]. The communion between music and dance is so complete that the two arts enter the living space of the other."
Read More
"Thus, two musicians of the ensemble (clarinet and horn) venture on the stage reserved for dancers to perform solos. In their turn the dancers mimic a strange production of the sound which gives the impression of an encounter between two parallel universes. Simple and beautiful is the choreographic idea of ​​building movements mirroring those of the conductor, true point of convergence between two twin arts. The abolition of the limits in the space reserved for each one is also manifested when the entry on stage of the musicians is dramatized by the dancers, thanks to the use of hats top-of-form, symbol of the man-character, the role to be played in the theater and in life, thrown to the ground before the music begins, with the exception of those of the soloists who on stage circulate between the two universes."
Anaclase,
2011
"One must not look in these works for the echo of this or that supposedly Mexican characteristic. It is from her own imagination that Hilda Paredes creates her identity sources. In this perspective, the indigenous languages ​​(several instrumental pieces have a title in the Mayan language) count as much as the production of two women painters, the Spanish Remedios Varo (1908-1963) and the British Leonora Carrington (1917-2011), who died in Mexico."
Read More
"In Altazor, for example, it is the Altaigle piece or the Parachute Journey, by the Chilean poet Vicente Huidobro (1893-1948), who provided the material for a "monodrama" that gradually loses its semantic dimension to access at a purely musical level of phonetics ". Treated in real time with the technology of the Institute for Research and Coordination Acoustics / Music (IRCAM), the voice (baritone) of Altazor will make us listen to Hilda Paredes' conception  of legacy: "A way of illuminating the soul in which one must draw one's inner resources when one travels far from one's own country."
Le Monde,
2011
Wigmore Hall: "There was a pictorial side to Hilda Paredes's world premiere, too. Her stunning three songs for string quartet and countertenor, Canciones lunáticas (2009), pay tribute to the powers of the moon."
Read More
"Pierrot Lunaire is the obvious template but it doesn't overwhelm her vision. The quality of the poetry from Pedro Serrano, the composition and the singing make sure of this. The first song is still and bare. For the singer, it must be like walking through the dark. The confident and vocally mature young countertenor Jake Arditti, however, navigated the lonely terrain with total conviction, never once tripping over the Ardittis' atmospheric undercurrents or the sibilants and whispering.
With a lurch into madness we moved into a faster and punchier movement that the Ardittis invested with their characteristic intensity. There was a hint of early Birtwistle in the directness and fury of the string writing. But the anger evaporates in a cord of springy ricochets as the third song imagines a moon set free from its daily drill."
The Arts Desk,
2011
"Besides his usual conducting duties, Burns showed to be a meltingly smooth trumpeter and flugelhorn player in Hilda Paredes "Ooxp eel ik'il t'aan" a 2007 work for percussion and electronics where Mayan poetry is read by author Briceida Cuevas (heard via a recording) to invoke ancient mysticism. This fusion of indigenous and modern American modes of expression bridged the millennia both convincingly and imaginatively."
Chicago Sun-Times,
2010
"Outstanding was Mexican Hilda Paredes's In Memoriam Thomas Kakuska, a hommage to the violist whose death led to the demise of the Alban Berg Quartet. The work was touching in its clarity and recalled Kakuska's touring with the Arditti Quartet to perform Brahms's Sextet. References to the Brahms ran through work."
La Jornada,
2009
"Paredes has often been included as part of a new generation of Mexican composers eschewing any division between northern and southern hemispheric musical cultures, focusing on the often tension-filled relations between them."
Read More
"And while it would not be inaccurate to compare Paredes' chamber works to those of Ligeti, Xenakis, or Tristan Murail, it is her attention to the relationship between communication and miscommunication, conversation and noise, that sets her work apart. In thinking about Paredes' chamber works, we can borrow a phrase from the philosopher Michel Serres, "the miracle of harmony."
Eugene Thacker School of Literature, Communication & Culture, Georgia Institute of Technology,
2007
"The pieces on this disc were written over a three-year period, from the 1998 string quartet Uy U Tan through the settings of Mayan spells and incantations in Can Silim Tun (1999), to the piano quintet Cotidales and the ambitious ensemble piece Ah Paaxo'ob from 2001. All show that Paredes is a composer with a fresh aural imagination, while her Carter-like use of instrumentalists as dramatic protagonists gives her music an extra dimension. Superbly played, it's music worth investigating."
The Guardian,
2005
"Paredes, born in Mexico but long resident in London, should be better known. All four works are finely written and full of life. The title of her string quartet, Uy U T'an — in ancient Mayan — means Listen How They Talk, and Paredes takes the idea of 'discourse' literally."
Read More
"The idea dates back to Haydn's quartets, but she gives it an Arditti-ish twist, and the work has a superb dramatic sweep. The Ardittis are joined by the pianist Ian Pace for Cotidales and by Neue Vokalsolisten Stuttgart for the magic-spell evocation of Can Silim Tun. Ah Paaxo'ob (Those Who Play the Music) is a colourfully detailed ensemble piece."
The Sunday Times,
2005
"From the composer Hilda Paredes, ONIX performed Corazón de ónix, conducted by José Luis Castillo. This is a complex and ambitious piece, well written and with atmospheric and colouristic qualities. It also has solid treatment of different sound production of the instruments. These timbric qualities are enhanced by Paredes with the use of the bass and alto flute as well as bass clarinet. Corazón de ónix is marked by an interesting expressivity and by very attractive harmonic instability, which is enhanced by the use of micro-intervals and glissandi. All these elements merge in numerous moments of an evocative poetic sonority that is at the same time intense and concentrated."
La Jornada,
2006
"I cannot resist praising the Homenaje a Remedios Varo by Hilda Paredes as outstanding, not to mention it's acute and clear formal construction, with nothing less than a sweeping and impressive finale."
Mundo Clásico,
2004
"Amongst the jewels of the programme was the emotive and well crafted Homenaje a Remedios Varo, written in 1995 by the ascending Mexican composer Hilda Paredes."
El Mundo,
2004
"This is the kind of thing you feel you can only travel huge distances to see."
Read More
"Watching the world premiere of Hilda Paredes' chamber opera Phantom Palace, I had the sort of out-of body experience where you say to yourself "This can't be happening in New Haven". I simply couldn't come to terms with the realization that I was seeing topflight European modern opera, performed by a major international company premiering a ceaselessly provocative, unexpectedly comic and altogether amazing work…just a few blocks from my home. This is the kind of thing you feel you can only travel huge distances to see. But there it is: New Haven should be talking about Phantom Palace – in a number of languages – for years to come."
New Haven Advocate,
2003
"Ghosts visited the stage of Yale University Theatre this month, native ghosts from distant past of an unnamed Latin American country ruled by a brutal dictator… In setting the story, Paredes evidently sought to draw on the musical qualities of the languages used to tell it, sometimes employing electronic means to manipulate her sound material (the spirit voices are made to come from different parts of the theatre), and sometimes using leitmotif textures (rather than themes) to evoke dramatic situations. As her tale is one of pain, she has produced music of pain, full of angularity, pointillism and dissonances, often pervaded by an aura of tension and mystery."
Toronto Star,
2003
Uy u t'an "Its rhythmic vitality seduced an audience that was previously sceptical to any proposal by this Latin woman… the reaction was shocking, but with a telluric presence, like our volcanoes."
Reforma,
2001
"…nothing to match the refinement of seamless, Mayan influenced "concerto for ensemble" Ah Paaxo'ob by the Mexican Hilda Paredes."
Sunday Times,
2002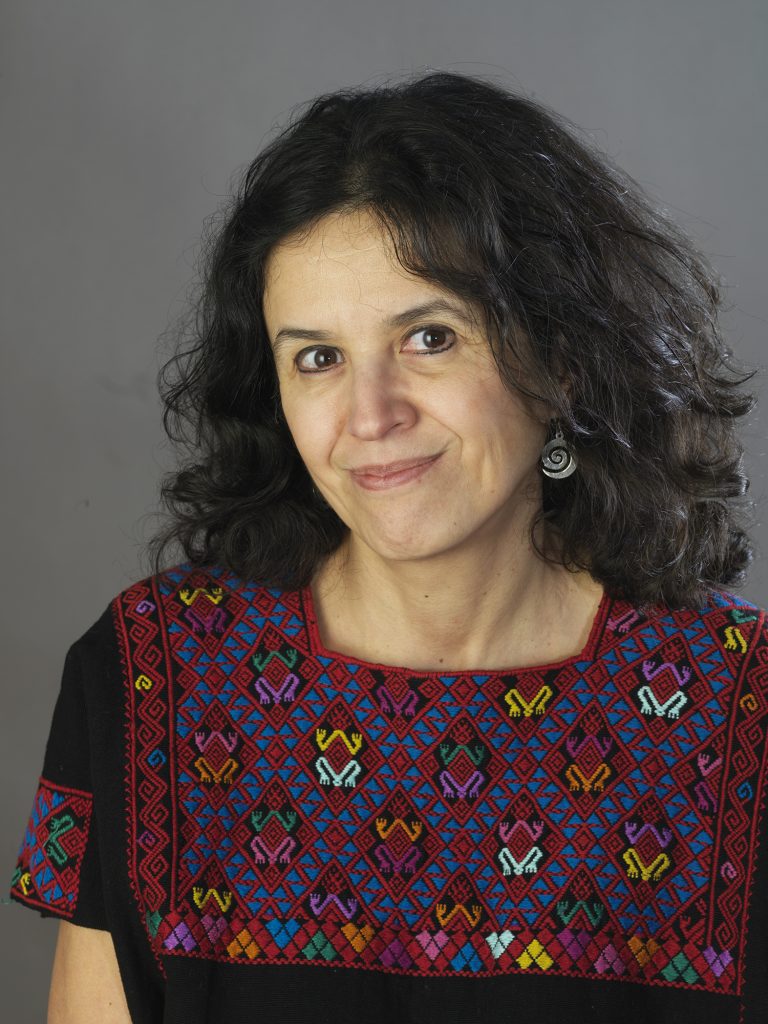 (c) Tony Hutchings